Dairy Sahakar Schemes
To realize the vision, "from cooperation to prosperity," Dairy Sahakar by National Cooperative Development Corporation (NCDC), is a cooperative dairy business focused framework of financial assistance for encouraging cooperatives achieve higher outcomes in ESG (environmental, social, governance) linked activities. It includes creation of infrastructure by cooperatives for new or modernization and/or expansion of existing projects.
Under Dairy Sahakar, financial support will be extended by National Cooperative Development Corporation (NCDC) to eligible cooperatives for activities such as bovine development, procurement, processing, quality assurance, value addition, branding, packaging, marketing, transportation and storage of milk and milk products, exports of dairy productswithin the overall objectives of "Doubling the Farmers Income" and "Atmanirbhar Bharat".
Financial support by National Cooperative Development Corporation (NCDC) will also cover supporting activities and services, such as, renewable energy, ICT, manufacturing of cattle feed / feed supplements, R&D, PET bottle/packaging material manufacturing, manufacturing of dairy equipment and machinery, dairy related maintenance services, manufacturing of veterinary drugs, delivery of veterinary healthcare services, veterinary / dairy education, capacity building etc.
Any eligible cooperative society under National Cooperative Development Corporation (NCDC) guidelines can apply for assistance which can be in the form of credit linkage towards creation of infrastructure, margin money and working capital, dovetailed with subsidy or interest subvention from other sources as detailed hereinafter.
There is no minimum or maximum limit on financial assistance to projects by eligible cooperatives.
National Cooperative Development Corporation, PDLS Division - Circular No. No.NCDC:3-1/2021-PDLS Dated 02.11.2021 Subject : Dairy Sahakar Scheme

(353 KB)
National Cooperative Development Corporation, Regional Directorate, Guwahati - File No. NCDC/09(MISC)/2014(GWT)/15258 Dated 05.11.2021 Subject : Dairy Sahakar Scheme

(680 KB)
Dairy Sahakar Scheme - English

(18.08 MB)
Dairy Sahakar Scheme - Hindi

(19.23 MB)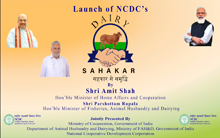 Launch of NCDC's Dairy Sahakar


---